Five County April 2012 Newsletter
Submitted by Nicky Chavez on Wed, 04/04/2012 - 10:28am
Music Project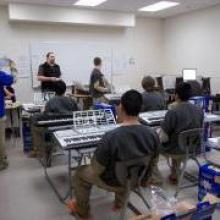 There has been some new sounds around the facility. Twelve keyboards have been purchased for the Five County Rehabilitation Program. Residents are now learning the fundamentals of music through piano class. The class is taught by our Rehabilitation Staff/Juvenile Detention Officer Ben Seare. Ben comes from a musical family. His dad is a High School music and band teacher. Ben went to two years of college for vocal performance, performed in college choirs, and music has always been an important part of his life. He has shared this talent with juveniles in the facility. He teaches the residents all the basics, and the residents also have the opportunity to practice during their privilege time in the evenings. Music can be a wonderful therapeutic tool. It encourages creativity and can be a wonderful self-soothe technique. We are encouraging the residents to work up to a summer performance to show off their hard work!!
Congratulations Graduates

We would like to congratulate our employees who have recently graduated. Gina Jensen has earned her Bachelors in Social Work with a minor in criminology. Brittany Campbell and Eve Parker have earned their Bachelors in Social Work. Ben Mattingly earned his Bachelors in Sociology. All graduates earned their diplomas from Brigham Young University of  Idaho. We are so proud of these employees and appreciate the knowledge they bring to the facility.
Therapy Pet Project

A new Therapy Puppy has joined the treatment team. Kaya is a "Morkie". She is half Maltese and half Yorkie. After losing our first Therapy Dog , Neiko, there was a big void at Five County. Kaya comes from the same mother as Neiko and has some big shoes to fill. Kaya is currently "in training". She already is enjoying the residents and staff at Five County and we are hoping that she will be a long term member of the team at the Center!!
DBT Skills Corner
WHAT and HOW skills are two types of mindfulness skills, or in other words, what to do and how to do it. This quarter we will introduce you to HOW skills. We will learn WHAT skills in our next newsletter. HOW skills can be done all at once. There are three parts to the HOW skill:
Non-judge mentally: The goal here is to take a non judge mental stance when you are observing, describing, and participating (WHAT skills). Judging is labeling or evaluating as good or bad, valuable or not, as worth while or worthless. Judging is often a way for a person to avoid taking responsibility. Each action that we may take has consequences. They may be painful or pleasant. A person can predict consequences without judging.
One -mindfully: The goal here is to focus on one thing in the moment (awareness). This is usually not how we as humans operate. We feel if we do more than one thing at a time, we can switch back and forth, but it is still one thing at a time. Focusing on one thing in the moment does not mean that a person cannot do complex tasks requiring many simultaneous activities; it does mean that if a person is involved in a task, they should attend to it fully.
Effectively: The goal here is to focus on being effective-to-focus on doing what works, rather than focusing on what is right versus wrong or fair versus unfair. Act skillfully as possible, keep your eye on the objective and let go of vengeance, useless anger and righteousness. Remember, being effective requires us to be smart or politically savvy, using our pro-social skills to obtain what we need or want.
This requires some sacrifice and work to make wise minded choices!Next time you are in a situation, try to apply these HOW skills. With practice you can come out on top each and every time!