Therapeutic Pet Pilot Project
Five County started this project a year ago with Neiko and the long term residential juveniles in treatment programming. She is a "Morkie" which is a cross between a Maltese and a Yorkie. She is very small and started at the center last summer with the idea that she could possiblly be a "self-soothe" for the residents. Little did we know how successful she would become. Neiko has become a regular member of the staff at Five County. She is trained by Drug and Alcohol Specialist Taryn Ivie and is training both at the Center and with Taryn's special needs grandson. Neiko is proving to be quite a care taker. She sense immediately if one of the residents is having struggles and will crawl right up into their arms and let them "self-soothe" with her. She also has proved to pick up some other DBT skills of her own. when a resident is upset and needs to use "Inside/Outside" skill, she has taken it upon herself to be the resident's focal point. The resident will use Neiko as their focal point and Neiko will hold still and stare into their eyes, as they stare into hers. Neiko will not break eye contact until the resident is ready and their emotions are back to where they need to be. Neiko attends one on one sessions with Taryn, the Case Managers, and the Clinicians with the residents. Neiko attends Drug and Alcohol groups and MRT (Moral Reconation Therapy). Thank you Neiko, for all your help at the Center!!
OUR OWN SERVING OUR COUNTRY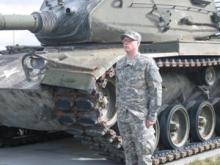 We want to give special thanks to the men and women serving our great country!!! We want to recognize our own employee Zach Burton. Zach is on active duty for the National Guard. Zach has been an employee of Five County for several years. We want him and his family to know that we are very proud of him and miss him!
EMPLOYEE OF THE QUARTER

Every quarter we give recognition to employees who have gone above and beyond with the work here at the center. The first quarter this year we would like to recognize TONY POWELL. Tony is fluent in the Spanish Language. He has spent many hours assisting residents in translation who come into the center not speaking English. Tony works at the center part-time, and is always willing to assist when needed. He has great rapport with the residents and is a valued employee at 5-C. Congratulations Tony Powell on a job well done!!
We don't want to forget our honorable mentions either. Therapy Tech's Veneda Jones, Judy Gould, Travis Welker and Supervisor Michael Hogle. Thank you on a great job!
RESIDENT LEARNING ART



Artist Daniel Hidalgo
Our long term residential treatment residents were fortunate enough to have a local artist Daniel Hidalgo help the Eagles Group (Male Residential Group) and Lady Warriors (Female Residential Group) complete murals. Each group first worked together as a team and sketched the mural on a poster size paper. then, Daniel came into the Center and taught them how to grid or map the drawings into murals on the gymnasium wall. Residents were given art lessons and instructed in the painting process. Materials for the projects came from the Idaho Art Lab and a state grant to see this project through. A great big thanks to Daniel for sharing his love and talent in art! A great big congratulations to the residents for accomplishing their latest projects.
DBT SKILLS CORNER
Inside/Outside. When we are emotionally upset about an incident, it is the natural tendency as human beings, to focus on what we are upset about. This can cause us to work ourselves into deeper emotional dysregulation and it is harder and harder to get out of the spiral.
One skill that is great to counteract this problem is Inside/Outside. Residents are taught to do a regular exercise so that it will be easier for them to perform when they are upset. They practice by focusing for a few moments on the "Inside". They are told to think of something that causes them distress and focus on that. After a few moments, they tell themselves"Outside". At this time, they find something to focus on. It can be a door handle, a spot on the wall, etc. They focus completely on this point for the next few moments, letting the "Inside" go and staying on the "Outside" of it. With practice, the resident improves on the use of the skill and it becomes a tool they can use when they find themselves emotionally upset. Try it for yourself! you may be surprised at how a skill as simple as this can help you when you become upset about something.