Five County September 2014 Newsletter
Submitted by Nicky Chavez on Fri, 09/26/2014 - 8:17am
SPECIAL GUEST AT FIVE COUNTY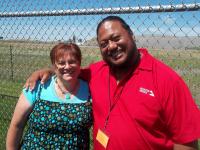 Motivational speaker and recording artist LT Smooth came to pay us a visit and it was a rewarding experience. He shared with the residents and staff his struggles, his triumphs and his music. LT lives in Hawaii and had been to our facility last year and decided to come back and visit us again. He speaks and performs all over the United States and we feel very honored and privileged to have him not only in Idaho, but at our facility. We hope to have him back again next year giving our residents the motivation, hope, and strength to better their lives.
SUMMER TIME MEANS OUTDOOR WORK PROJECTS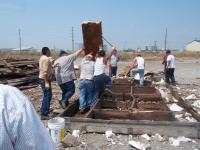 Many of our residents were able to give community service these past few months. One big work project was taking apart many old docks that had been pulled out of the local reservoirs and lakes to be replaced by new ones. All of the docks were carefully taken apart and parts stacked in their appointed piles to be disposed of correctly. Another project was painting all the playground equipment at the sandbar in St. Anthony. The residents worked very hard and were able to give back to the community.
WHO's Hungry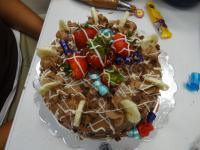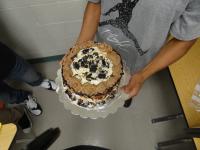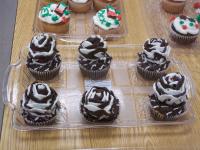 Therapeutic Tech MoNee Harrigfeld did a fantastic job with her culinary arts class this summer. They decorated cookies, cupcakes, and full cakes during this summer course and many of the staff had the honor of judging their final products on presentation, appearance and taste. It was a tough job, but somebody had to do it. The creativity of the residents was incredible and many found talents that they were not even aware that they had. Thank you to MoNee for all the hard work teaching all the residents on decorating techniques and for asking us to be the judges (yum yum).
"HOOKED" on new Hobbies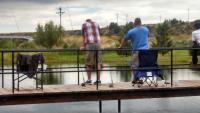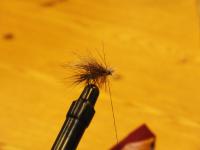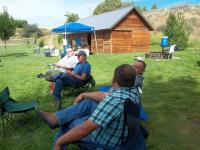 Another awesome summer class was the facility fly fishing class. This was spearheaded by Kent Frisby, who has had years and years of fly fishing and fly tying experience. He willingly came and spent some quality time with the residents teaching them a new hobby. They first learned how to tie flies and all residents made their own flies to use at a later date. He then worked with them on casting and explaining the art of how to catch a big fish. After much practice, the residents who earned passes were able to go out into the community to a private pond. Thanks to the generosity of the Rex Baum family, they were able to try out their flies and casting at a beautiful private location. Many fish were caught and the residents and treatment team staff had a great time. Master Chefs' Michael Hogle, 5-C Supervisor, and Vail Codling, Clinical Program Manager did the cooking for the event. Mr. Hogle cooked breakfast burritos on the grill and Mr. Codling cooked Brat wursts on the Barbeque . Good feasts and good times were had by all. Thank You so much to Mr. Frisby for volunteering all his time and talents to teach our residents such a great hobby!!!!
Staff of the Quarters
A big congratulation to our Staff of the quarters. We need to give recognition to the last three quarter's winners. Fourth Quarter 2013 was Emmas Flores. She is a PT Reserve for the facility and is always willing to fill shifts when needed. She also assists us with Spanish translation when needed. First Quarter of 2014 was Patricia Asper. Patricia loves to teach groups and always goes the extra mile with whatever task she is asked to do. Our Second Quarter of 2014 is Janeen Elliot. Janeen has taken over teaching our parenting class which is a big undertaking at our facility and one of our favorite programs. Two weeks of structured classes and then a day and night wearing a pregnancy suit are rough enough but then putting up with the exhausted residents after caring for computerized infants for a week is really a chore. We appreciate your willingness to undertake the project. All your hard work and donation do not go unnoticed. Runner ups were Mike hook, MoNee Harrigfeld, Heath Wade and Jeanne Wolf. Than you for all you do for our team and the residents!!!
ARIZONA here we come....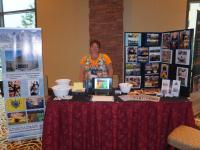 Clinical Program Manager, Vail Codling, Drug and Alcohol Specialist Taryn Ive, and Therapy Tech and Tech Support Nephi Paredes had the honor of attending the Four Corner Conference in Arizona to discuss Native American issues and there were some great breakout sessions. Five County presented their program there and met many wonderful people. 5-C was an official Vendor for the conference. Tony Redhouse performed his musical talents and was a great motivational speaker. Five County raffled off a tablet for all attendees and Angie Watahomogie was the luck winner. We were so grateful and honored to be a part of this important annual conference and look forward to attending again.
Burgers Anyone?
We had our annual July Center Barbeque and Group Builder. It was a great time. Staff and residents enjoyed each other's company eating great cheeseburgers and participating in fun group building activities. The clinicians Dave Anderson and Clay Smith were in charge of the games and all admitted that the large "slip and slide" was the favorite this year along with volley ball matches, and crochet. The weather was beautiful and the food was great!!